UPDATE: ROUND 3! goes to Brett 'down under' Brown over the Spoe!
Game adjustments were made. Updated thoughts to the article.
1) Embiid returned. -- That changed everything. The Sixers have their create your own shot guy, for real. Brown played Jo Jo just right apparently. Very little rust factor and he saved his best minutes for when they were most needed in the end game. +1 Brown.
2) Inserting Justin Anderson - Anderson was really good and played a significant role many might miss. He made the physical fight a 2 way brawl instead of the Heat just pushing and grabbing the JJ's, Beli's of the world. JA along with Jo Jo and Simmons and throw in Dario make the Sixers anything but 'soft'.
The PERIMETER physicality and fight in particular was needed though and JA brought that which frustrated Wade especially.
The Ref's are forced to make calls when altercations break out.
+1 for Brown.
3) TJ validated Brown's selection for backup PG minutes. Markelle was given a little run again, but especially with Jo Jo back in the fold, McConnell's more steady and experienced hand was definitely the better impact on the floor for Philly.
4) Finding the hot hands. Let Jo Jo shoot some 3's. Saric and Embiid added 3 point shooting to Beli and honorable mention to JA here who showed he could hit a shot while still being a bruiser out there. This meant the Sixers could counter on offense even without super shooting from JJ and Covington. +1 Brown.
You could see Spoe and his on court rep D-Wade trying to adjust to the adjustments and the game was very good, nip and tuck for a long time, a real battle, until the Sixers superior talent and strategy broke the game away.
Round 1 went to Brett Brown and his Spurs system heritage.
The Gregg Popovich Padawan spaced and paced one of the top coaches in the league with head coach championship chops.
In round 2 Brett Brown was out-coached by Erik Spoelstra, badly. Brown Sixers tried to come out with a continuation of the pace and space game, pass-em-to-death game that was working in the 2nd half of game 1 as if Coach Spoe wasn't going have his team ready to counter act it.
Brown even rolled out his stretch 5 center again, this time as the starter. Its understandable since the old adage is to keep doing what's working until the other guy adjusts.
Problem was, Spoe adjusted.
Spoe had his Heat ready for space and pace and pass-em-to-death. His Heat went full on physical and aggressive, up in the Jersey tell-me-what-flavor-gum your man chews style defense. It was beautiful in its own East-Coast bruiser basketball kind of way. They overplayed the passing lanes and sat down on many of the Sixers favorite sets leading to key steals and complete disruption in the 1st half and really for most of the game.
Problem was, Brown did not adjust.
Brett Brown's troops kept trying to do the same thing expecting a different result, the definition of insanity.
They kept trying to make the same passes and set up the same sets even though many time the passes simply were not there and the Heat was positioned right there to disrupt their sets. Its as though they had NO PLAN B.
The Sixer's shooters kept trying to hoist up the same shots which were now being defended much, much better than in game 1 resulting in really BAD shot selections. Shots were often further out, contested and shooters were even getting their jump shots blocked. What happened to PLAN B?
The Sixers don't have much in the way of shot creators. That is a known weakness. In fact they have Embiid, who was out, Simmons who is limited by being a poor FT% and a poor shooter that has to score inside, making him tough but predictable for the defense and they have Saric who can create a little but mostly in the post and is still very defend-able by superior pure athletes.
These Sixer creators don't want to score, they want to pass. Defense didn't give them what they wanted and the Sixers couldn't, wouldn't take what the defense gave them.
I purposely left off one of the Sixer's creators, one Markelle Fultz. I left him off because he highlighted another Brett Brown failure in my view.
Brett Brown tried to play it safe. He changed his rotation to put TJ in front of Markelle as the backup point guard essentially because TJ was the safer choice. Brown said he decided to go with the guy who 'played all year'. It makes some sense. TJ seems safer. Fultz played only 5 minutes, threw up what could only be described as a nervous air-ball shot and generally looked a bit out of sorts in his first ever NBA playoff test.
Game 1 wasn't much of a test because Fultz didn't really have to make adjustments to stifling playoff defense and Fultz was ok in game 1 but its easy to see Brown figuring this was about getting a win and going with the safer guy.
In that sense, Brown failed. As much fans and Brown might live and appreciate TJ, this wasn't the type of team and game that plays well into TJ's game and TJ had been struggling as the season wound down anyway. He settled in nicely to a 3rd PG role with spot minutes next to Ben or Markelle many times.
Now Brown got scared. He said Fultz was the RISK/REWARD player which he brought back THIS season because he said he leaned more toward the reward. Now suddenly, with the stakes higher, Brown being a ROOKIE head coach, went safe.
Fultz can create if Brown turned him lose to create. He's the ONE player that could give the Sixers a little big of what Dwayne Wade gave to the Miami Heat, a guard that can create and make his own offense in a one on one against a good defender. Fultz could force the defense to open up. Is it Risky? Sure, but this is the guard that is supposed to be part of the Process CORE. At some point, he has to get over it, just like Ben Simmons.
Brown was out coached. When TJ went in, Coach Spoe made sure to take full advantage of him using his superior perimeter athletes against McConnell and the other weak Philly perimeter defenders, JJ and Belli.
Markelle Fultz (0 PTS, 0 REB, 0 AST) Rough night for Fultz. In just five minutes,
5 minutes? That's all Brown was willing to risk? Fultz is clearly playing to pass and execute the offense as directed like the rest of the Sixers but when the defense is in your Jersey man to man and shut down the passing lanes like the Heat made it, Brown has to let his best creators CREATE.
Fultz is one of the best, one of the only creators on the Sixers Embiid-less roster. If the 3 point shots aren't falling again, Brown's going to have to take the risk in the playoffs the same way he took it at the end of the season. He'll have to stick with his rotation guns and play his best, most talented athletes.
Fultz is clearly one of those best most talented athletes. Dwayne Wade can't be the only guy creating his own great shots from the guard position. Yes Simmons is #1, but hitting great shots is not his strength right now, he needs to pass into them. JJ and Belli need to be setup for their shots. If the defense if able to shut down those passing lanes again then Brown will need to let his short time rookie go to work for better or worse.
Philly cannot count on Embiid to come back and save the day. The series could easily be all but over before the doctors consider it safe for Embiid's eye to be put in the midst of the physical pressure and foul-fest that Miami is bringing to the young Sixers.
Of course, Ben Simmons can score too. He's got to adjust to the fact Miami is going to make him be a scorer whenever possible rather than a passer. He's got to concentrate and finish at the rim, under pressure. If he needs to have a 27 point game again instead of a 17 assist game then he'll need to take what the defense is giving. He'll need to make those awkward left handed free throws too.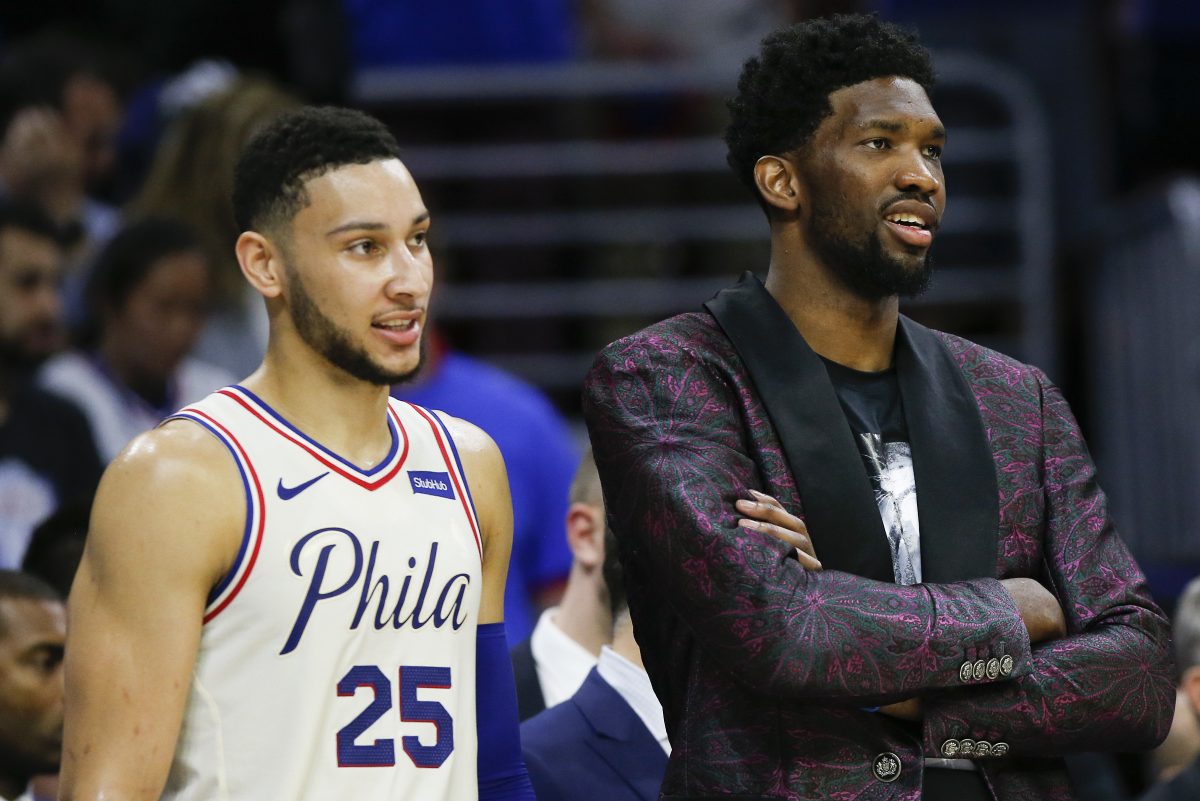 Brown is going to have to have a plan B to his Spur's passing system, pace & space game when he can clearly see that Erik Spoelstra's team has been able to take away what the Simmons and the Sixers want to do.
Have Heat, Spoelstra gained an upper hand on the 76ers?
Adjustments. Tweaks. Changing roles. That's the concentrated duel between Spoelstra and Philadelphia coach Brett Brown. It's often in the shadows. It can be understood more by reflecting on the big plays more than the plays themselves.