When you watch Joel Embiid play basketball, you know what is meant when people talking about those 'transcendent talents' that really can't be taught. His offense is as good as his defense, he scores inside, mid-range and outside , he provides the 'rim protection' teams crave, he's plays with a competitive fire, he does it all on the floor.
Its all good with Embiid, all good, except, excecpt, except for one thing. The elephant in the room.
Every time you watch Joel Embiid as much as you may enjoy the talent, the elephant is in the room and his first name INJURY his last name is RISK. Every player in the NBA and in sports for that matter plays with the risk of injury but there's no doubt that the risk among players is not equal.
Some players carry a higher risk as they play.
Evidently the Sixers and Embiid recognized this as part of his big new Max contract with stipulations.
How Joel Embiid's contract protects the 76ers from a Brandon Roy scenario
ESPN's Adrian Wojnarowski and Bobby Marks report that the Sixers have the option to void Embiid's contract (once it takes effect) if the center misses 25 or more regular-season games or plays fewer than 1,650 minutes due to feet or back injuries.

So the Sixers are protected specifically against "FOOT" or "BACK" injuries. Clearly the "KNEE" is also a concern but the team is focused on those issues that came up before the meniscus surgery. I guess the knee injury is considered a normal risk for all NBA players.
That all makes some sense except for one additional issue with EMBIID, HIS RISKY STYLE OF PLAY.
Joel Embiid says he can do things at 7'2" that usually only guards do and then he goes out on the floor and demonstrates it. He surges down the floor with bursts of speed passing other player. He throws his body around and frequently goes crashing to the ground like Allen Iverson.
Hey Sixers!!! CAN SOMEONE TELL JOEL EMBIID to adjust his play style to use some go-to-moves that don't cause him to go flying or collapsing to the ground quite so often?
Hey Brett Brown!!! Can you tell Joel to maybe pick up a couple of moves and style from TIM DUNCAN rather than AI or even the great Hakeem Olajuwon? I mean the Dream was great but he wasn't 7'2" with Embiid's body style.
Tim Duncan sure lasted a Loooong time in the NBA, effectively, using that style.
How about Kareem Abdul Jabbar with his go-to-move that didn't expose him as often to high injury risk. He played a Loooong time!
How about a little Dirk Nowitzki another long time effective career big man with low risk go-to-moves, step back and 3 pointer, which Joel is able to do as well.
Embiid frequently passes up open shots, even though he is an excellent shooter, so he can drive to the rim like a 7'2" guard making spectacular finishes going through and around defenders. Looks great, but less of that and more of taking the shot would probably be better for Joel and the Sixers long term.
Embiid thinks he IS Allen Iverson.
Embiid thinks he IS a 7'2" guard.
Embiid thinks this way because he CAN move this AND because he's been able to play this way most of his life.
Most of his basketball life he could do this without much problem, BUT NOT NOW, not anymore.
Joel Embiid now has a new body. Embiid, as incredibly athletic as he is, often looks awkward handling his new body.
He moves awkwardly at times, he LANDS awkwardly and he FALLS way too much.
His legs and fee are trying to tell him all the time "hey dude, that 275 lbs is TOO MUCH to throw down on us all the time!". You can tell because he's stopping and grimacing with little leg and ankle tweaks all the time.
He's added a lot of weight (mostly muscle) AND grown 2 full adult inches since he played in college.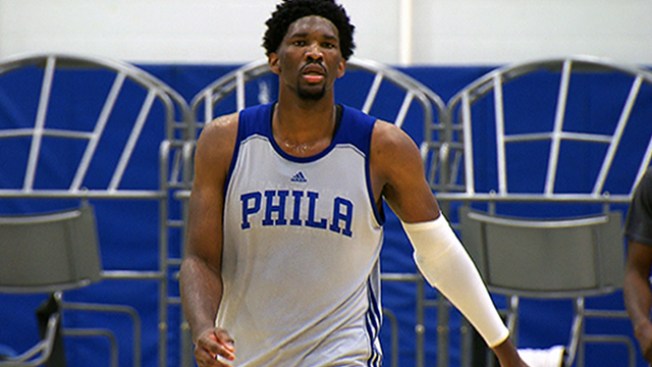 Embiid even in the NBA is usually going to be bigger than his opponents but learning how to handle his body against those stronger low center of gravity players will take some adjusting.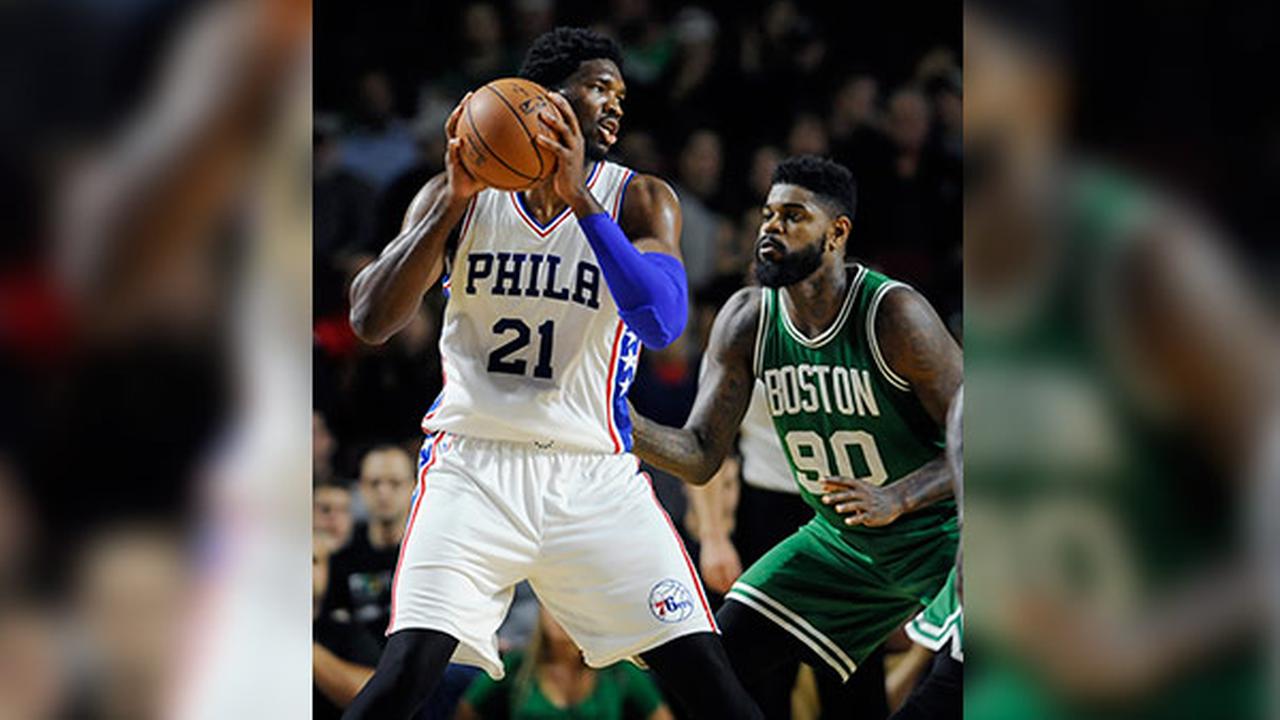 More importantly he seems just a little bit awkward in some of his movement and against NBA body contact. Its as though he wants to the play like the slim jim lean 7 footer he was a couple of years ago and now, well now his body and weight is closer to a Shaq than he is to Mutombo or even David Robinson.
Its a good thing they're bringing his minutes along slowly, not only for his foot and stamina but for adjusting to his new body in a new level of the competitive NBA.
Embiid is coming too close too often to hurting himself even without any contact.
Joel Embiid is also a relatively late starter to basketball who really learned his style of play in high school.
There was that same famous between the legs dunk from Embiid but now with the same move he has to land cleanly with quite bit more weight on a wider frame.
Now Embiid is has to learn how to handle (and protect) his new bigger frame against a bunch of the biggest strongest bodies in the world.