As the draft lottery comes closer and the Sixers handful of remaining games go by, the norm I see for expectations for the draft from Sixers fan's seems at times delusional. Everything I see and hear is based upon the incorrect assumption that A) we'll get the #1 pick or B) Andrew Wiggins will somehow drop to us if we didn't get the #1 pick. And 1 thing I learned as an adult, is not to get your hopes up.
Logically speaking, the only way Wiggins would fall to us if we didn't get the #1 pick is if for some reason, team's picked Jabari Parker, Joel Embiid and Dante Exum over him AND we landed in the top 4 in the draft. That's a few big if's. What makes thing's even more complicated, is that Joel Embiid and Parker haven't even declared for the draft yet, and it's 50 50 on whether they'll do it or not. Realistically, both of them could stay for another season. Everything is still completely up in the air, as the only thing we know as of right now is that we'll have a top 5 pick in this upcoming draft.
So the contingency plan as of right now is to look at other options. Dante Exum is an intriguing prospect, although redundant to MCW at this point, unproven because he hasn't played college, and will most likely take multiple season's to emerge as he's only 18 years old until July. Noah Vonleh is also pretty intriguing, and a fan favorite around these parts. He's comparable to Chris Bosh, although he stepped out to the 3 line a little earlier than Bosh did, and is still expected to take a few seasons to polish his game. In my opinion, the best contingency plan for the Sixers is going to be playing in the College Championship tonight for the Kentucky Wildcats, and his name is Julius Randle.
He's been scrutinized a lot, and to an extent rightfully so. But if you watched him this season, you can see the growth and why I like him so much. Early into the season, you'd see him showing the skills that he'll definitely bring to the NBA, his money maker skills.
What Skills he's already Mastered
He's able to get the ball at the foul line area, and drive to the paint with a defender on his hip a la Lebron James. Another Lebron like skill he has is converting layup's off the dribble and slashing from the perimeter. He just has an uncanny ability to gather himself and finish at the rim acrobatically. He's got an amazing motor, first step, and is very agile overall for a 4 man. His ball handling is polished enough for him to regularly operate at the high post. As soon as he steps on the NBA floor, if a big man dares to play him close on the perimeter, he'll easily be able to take him off the dribble and finish. Lateral quickness is an advantage for this guy.

Despite being 6'9" and his lack of wing span, his body, size and strength allow him to easily position himself closer to the basket. Using his finishing ability from up close, he's able to finish easily when he has good post position. He can't go right over other big's because of his wing span, but he uses his strength to create space. Most people think "he won't be able to do that in the NBA", but this should erase your doubts. In the gif below, he's creating space against Adrien Payne, a player who's not only taller than him, but equal in body size. After that, he goes right up and converts the layup. He does this regularly, and it's why he's demanded double teams the entire season.
Randle is a beast on the boards. He finished 4th in all of college basketball in offensive rebounds, 2nd in defensive rebounds, and 1st in total rebounds and rebounding %. His motor is amazing, and his rebounding has only improved in the tournament, improving from his season mark of 10.5 rpg to 12 rpg.
Mid Season Progress
Randle started off the season hot, averaging 24 ppg with 14 rpg with 14 free throw attempts per in his 1st 3 games. But as he made headlines, teams began to figure out what he did and how to stop it, evident in the loss vs Michigan state. They packed the paint early in that contest to take away Randle's driving ability and posts up. Randle still had an amazing game, finishing with 27 and 13 with 15 trips to the line, but his team ultimately couldn't add to his domination.
In the picture above, you can see the entire defense collapsing and Randle giving his best effort to score over them.
When teams packed the paint against Randle, it limited his ability to finish. So Randle changed his game right infront of us. He started using the threat of his drive and reacting to the D. If they pack the paint, it means someone is open and the ball should move quickly to the open man.
In the pic above, you see a textbook example of how early in the season, Randle would try to score even with every single defender focused on him. Really, it's a testament to his abilities to have an entire defense positioned and focused on him. Here's where he lifted his game, showing his quick evolution.
Here, you can see Randle passing over the defense and making them pay for quintuple-teaming him on the perimeter. Randle has only begun to play with using his abilities as a threat to make his teammates better. And if you've been watching UK play in the tournament, you can see he's beginning to understand when to attack and when to pass. This might seem like a basic basketball play, but demanding that much attention consistently and finding the open man consistently pays great dividends in a team sport.

Where Randle can continue to progress
Not every team is going to respect Randle out on that perimeter area, due to the fact that he isn't a threat to knock down jumpshot's from that area. Randle's speed and strength allow him to drive past guys when they play him close, but if they give him a little space, they can stop the drive. The ability to knock down shots from that area will be the difference between a good PF, and being a perennial allstar. Randle has great mechanic's on his jumpshot, evident by his 70% ft shooting in his rookie season. Now he just has to start taking and making them when defenses dare him to. This is absolutely his swing skill.
Randle has shown the ability to put up both big scoring and big assist number's. Just not at the same time. In the NBA, Randle will have to work on his decision making. If he can figure out when to pass and when to score and he perfects it, then he might be the best PF in the league during his prime.
Also, Randle relies on his left hand very much. He's slowly began using his right this season if you watch close enough, but there's not really enough information to make an assumption as to whether he will start working on finishing with both hands or not.
My NBA Player comparisons for Randle
Randle is often compared to Zach Randolph, and I can see the similarities. But I think that is more or less Randles floor. Randolph was never the slashing threat that Randle is, and never moved as well as Randle does. Randle is more of a combination of 2 player's. In ways, he's a Blake Griffin Zach Randolph hybrid. No, he's not the high flyer Griffin is, but Griffin has shown he's much more than that.
Where Griffin has taken leaps and bounds in his game this season is making himself a threat from the high post, facilitating, posting up, and from the ft line. Griffin has started knocking down 15 footer's regularly, making team's have to play both his jumpshot and his slashing ability that he naturally has from being a ball handler and his unique combination of quickness and size. Sound familiar?
Since teams now have to play him out near the ft line, his entire game opened up. His passing, which has always been great, is now more fluid. Despite his lack of footwork and sloppy mechanics, he's converting more shots in post up situations. He's now able to put the ball on the floor an drive past guys in the half court. He's getting to the free throw line 3 more times per game, and his ft% has risen from 66% to 71%. It's all come together, despite taking 4 seasons.
Here's where Randle is already ahead of Griffin, and why I think he's going to be special. Griffin's post ups, while growing in effectiveness, are sloppy and it seems he still relies on his athleticism in posting up. Randle is already a very very polished scorer in the post, he's already better than Griffin at posting up. As far as shooting mechanics, Randle is already equal to Griffin. Blake shot 59% in college, and 5 year's later he's improved to shooting 71% in the NBA. Randle is already shooting 70% in his freshman season, and improved to 75% (21-28) in the NCAA tournament! The only area athletically where Randle isn't equal to Griffin, is in leaping. Randle is as quick and agile as Griffin already, and moves just as fluidly. I believe he'll be more of a threat when driving because his game is refined, and he doesn't rely on his athleticism.
Randle's Ceiling
We've already on touched on what Randle can do, what he's learning, and where he can improve. If shooting mechanic's is a testament to shooting ability, than he'll quickly become the type of player's team will double out in the mid range area. He'll never be a rim protecting big, but he can use his body, and quickness to be a good on ball defender. He uses his motor and quickness on defense already, as he's known for closing out on shooter's.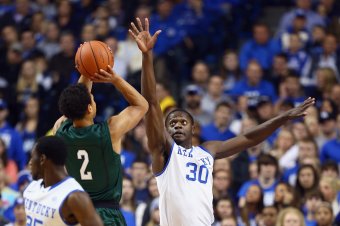 Statistically, Randle can max out around the 24 ppg mark. In any situation, he'll be averaging above 9 boards throughout his career. With his motor, he could easily be in the top 5 rebounder's regularly if he get's starter's minutes.
Again, with the draft lottery coming closer and closer, we have to realize that only 1 team can get the #1 pick. With the deadline to declare coming closer and closer, people need to be prepared for the possibility that Jabari and Embiid (edit: Embiid declared on april 9th at 3pm) might not declare. And even if they did, team's might not pick 1 of them over Wiggins. After tonight's game, Randle will be able to focus on whether he'll declare or not, and if he does, atleast I believe the Sixer's will have a great contingency plan if all else faiils.
If you enjoyed the post, give me a rec. Please, I would like for everyone to share a comment if you have any questions, anything you want to share or anything you think would contribute to the discussion. Thanks for reading!