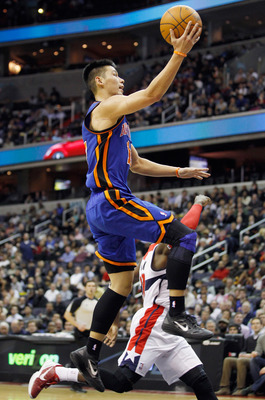 A dose of reality is the toughest pill to swallow. Unfortunately, that pill has finally been prescribed in the realities facing this Sixer team. It's been a refreshing season, seeing a team that actually has aspirations and one that has come together to play team basketball. However, as the season has worn on, I think the "new car smell" about this team is starting to wear off, not only for the team and immediate fandom, but to opposing teams. While this could seem like an in-the-moment criticism, acknowledging the flaws and weaknesses (both short and long term) of this team relative to the sudden rise in competition, the brimming confidence that I had has tempered. Bottom line, I believe that this Sixers team has reached its ceiling.
Meanwhile, up the New Jersey turnpike...
I don't know if you've heard but there's some guy playing some good ball and causing a lot of buzz. The hype train of Jeremy Lin is at an all-time high. With each game, the bar is set higher and higher for both him and the Knicks. While I'm thoroughly enjoying the spectacle from the NBA fan perspective, I'm not getting caught up enough to say that the Knicks are automatic title contenders or that Lin is the new Steve Nash to D'Antoni's system. However, Lin's story is remarkable. By now we've all heard his tale from the major media outlets. He's an underdog story, which is half the reason he's captivated the nation. He's a humble and, by all accounts, a good guy that's made him so likable. None of this is new. However, his story presents 2 lessons (among other things) that I think are important for both the NBA, as a whole, and this Sixers team/regime. Below, I explore the first of the two lessons.
1. The D-League + Youth vs Experience
Something I found fascinating about Jeremy Lin is his journey in the NBA to the present. No matter what happens in the future, be it blossoming into a perennial top point guard or falling back down to earth and on his face, right now he's playing remarkable and surprising basketball. Once Lin-sanity kicked in, one of first topics of conversation was "How did so many teams miss on Lin?". It's a legitimate question for those who had no idea who Lin was prior to his media explosion, including myself. He went undrafted, bounced around the NBA and the D-League before ending up on the Knicks. Again, I'm not telling you anything new. However, back to the first question, how did all those teams and scouts miss on this guy? The answer? They didn't. DraftExpress.com has a conglomeration of scouting reports on Lin that point out the strengths and weaknesses. Without getting into specifics, the general consensus by scouts in the end was that while he has many strengths, his lack of size in combination with the flaws in his game made him a non-ideal player for teams to spend a draft pick on. I want to specifically point out a quote form Draft Express that was made January last year.
"A combo guard in the Ivy League making the steep transition to playing the point full time in the NBA, Lin's ability to knock down shots from the perimeter, handle the ball under pressure and cut down on turnovers will dictate his chances of sticking in the NBA. With that said, his performance in the NBADL has been impressive. He has done a fine job translating the things he did well in the college game to a higher level of competition, seemingly unfazed by the bigger, more athletic players he's routinely matched up with. Lin's basketball IQ, competitiveness and overall savvy were underrated factors in his professional evaluation, and it's clear that NBA teams value them quite a bit."


-From DraftExpress.com http://www.draftexpress.com#ixzz1mZVaR3X3
At Liberty Ballers, we've talked much about the D-League and it's importance. However, try asking a casual fan what they think of the "D-League". Will they even know what it is? Would they confuse it for a cheap parody version of the "A-Team"? Fact is, a casual baseball fan knows what the minor league is, they at least know what a prospect is. The same can't be said of casual basketball fans and the NBADL. But my point isn't D-League acknowledgement (though amusing). Jeremy Lin benefited from D-League experience, refining his game and craft with in-game experience. While he is an extremely rare occurrence in this whole process, it illuminates the amount of actual talent out there. More importantly, it gives more opportunity for young guys to refine their craft, polish those raw tools and, overall, become a better player. It keeps them in the system, so to speak. Our very own Craig Brackins was assigned back into the D-League just about last week.
A pain in the butt this year is trying to rationalize the idea of a "veteran presence". As much as I love Frozone (Francisco Elson), how does his presence really help us any when he comes off the bench besides being a tree on the court. How does having "experience" really help if physically, one can't keep up?
Let me put it in the context of Sixers games this year by giving a more simplified explanation of the Pick n Roll D (disregarding slips and positioning). The Sixers Pick n' Roll defense has been suspect many times this year (against the Spurs being a glaring one). Hawes, while much maligned with his post defense, did a good job helping weak side on the pick n' roll. When Hawes went down, the Battie and Vucevic had to pick up the slack. Lateral quickness is essential on a high screen in order to meet the guard and transitioning back to the center. Over commit too early and come too wide, and you risk either the guard splitting the defense or passing it back to the screening center (who's wide open or mismatched with the guard). Come too narrow or slow and the guard blows by the center on the way to the basket. Hawes and Vucevic, to a lesser extent, do a good job at meeting the high screen. Battie and Brand (who plays the Center spot a lot) lack much of the physical tools (agility/speed) to keep up, unfortunately, and we see games like the Spurs. This is a case where experience does not trump youth. (Simplified Pick N Roll Image to the right, credited to www.coachesclipboard.net)
Without getting into win shares and other statistics, how much has a guy like Elson really helped this team? I don't mean to knock him but the case for a guy like him and against a guy like Xavier Silas is, in my opinion, not as strong as the reverse. Silas (a Liberty Baller and personal favorite) is a guy that has been working in the D-League (but not under the Sixers designated) and polishing his game enough to make it into the NBA. Note, that I'm disregarding their respective positions because Elson serves no intrinsic purpose on this team except tall-guy and cheer leader (and Super...I mean, he IS Frozone). I will applaud the increasing use and emergence of Lavoy Allen (and Vucevic) and they're usage means little-to-no-minutes for guys like Battie and Elson.
But this brings me back to the point of "why are they even here in the first place?". What does a veteran with "experience" bring to teams that a younger developing player can't develop with some experience? If Jeremy Lin, a hardworking player who refined his game in the D-League, is able to break through and create a national stir, then what's to say that another guy couldn't do the same? Ivan Johnson of the Atlanta Hawks has become a cult legend after playing both overseas and in the D-League. All jokes about him aside, I'd take an Ivan Johnson and his production and potential growth over Elson and Battie any day of the week. The importance of the D-League is rarely talked about in the mainstream, however, just think about the amount of successes it could present.
It's all about opportunity, confidence and hype. But that point's for another day.