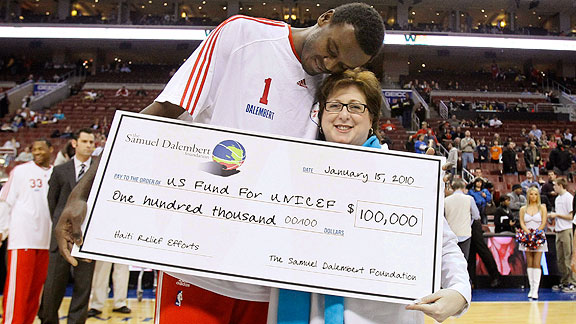 Story Copied from http://sports.espn.go.com/nba/columns/story?columnist=adande_ja&page=Haiti-100122
The speaker is Samuel Dalembert, Philadelphia 76ers center. The subject is his beloved and devastated home country of Haiti. The tone of voice is determined.
"I know that I'm not going to be able to save the whole country by myself," Dalembert says. "I know that I can make a difference in my way. If I feel like I'm not doing my best in my power and utilizing all the resources I have in my hands, I feel like I've failed. I know I'm not going to be able to help every single person back home, but I'm going to help a lot of them."
The speaker is Caryl Stern, president of UNICEF. The subject is Dalembert. The tone of voice is momentarily swooning.
"Oh, I love him," Stern says. "I love him."
Stern can turn solemn as she recounts stories of a child showing up at a UNICEF camp in Haiti, curling up in the fetal position and screaming for hours before finally revealing that he'd watched both of his parents die in the earthquake; or the staff driver whose wife, son and daughter all died of earthquake-related injuries but who continued working, saying "I can't bring them back; I can only save lives."
But her voice turns giddy when she speaks about Dalembert.
"He has been an ardent supporter of Haiti [for years]," she says. "He has called upon us on numerous occasions to see what we're doing and how he can help."
The speaker is Olden Polynice, native of Haiti and former NBA player. The subject is Dalembert ... and Alonzo Mourning and Dwyane Wade and Chris Paul and all of the other NBA players who came forward to offer help to Haiti after a magnitude 7.0 earthquake wreaked havoc on the country. The tone is grateful.
"I'm very appreciative and I'm sure the people of Haiti are as well," Polynice says. "The guys have done an incredible job of stepping up. You hear all the negative. In this time of pain and misery, these guys have stepped up."
Sam Dalembert is a heck of a man. He really is touched by all of this. For him to perform at the level he has been performing ever since we got Iverson, and still be saddened by the earthquake at Haiti is pretty unbelievable.